Meet Mr. Músá Banání: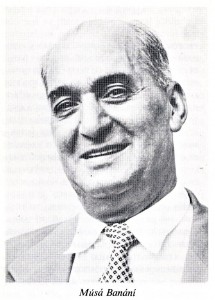 "Músá Banání was born into a Jewish family in Baghdad in 1886. He was four years old when his father died. The years of extreme hardship and physical and emotional privation that followed were only partially relieved by the care and compassion of an elder brother. He left home and migrated to Persia when he was barely twelve. The grim struggle for existence left him no opportunity for schooling. To the end of his life he could only read and write Persian and Arabic in the Hebrew alphabet that he was taught as a small child.
In Persia his elder brother came into contact with the Bahá'ís and accepted the Faith, but Músá Banání had no interest in his brother's spiritual concerns. In 1911 he was living as a merchant in the Persian city of Kirmánsháh, when an event occurred that was to transform his life. A prominent Bahá'í teacher, Fáḍil Mázandarání, accompanied by Siyyid 'Abdul-Ḥusayn-Ardistáni, passed through the town on a mission by 'Abdu'l-Bahá. At a Bahá'í gathering they were photographed with members of the Kirmánsháh community, including Músá Banání's older brother. Shortly afterwards the two Bahá'í teachers were arrested and maltreated. The photograph was used by the authorities to round up the Bahá'ís and force them to recant their faith. Músá Banání was mistakenly arrested for his brother due to their physical resemblance.  In the prison he witnessed the radiant and heroic refusal of his cell-mate, Mr. Abrár, a frail old man, to recant his Faith despite cruel torture. But Músá Banání was glad to obtain his own release by telling the authorities that he was not a believer and reviling the faith of the Bahá'ís. From that moment Músá Banání was seized by a profound spiritual convulsion, a tumult of the soul. He reproached himself bitterly for having glibly denounced a Faith of which he knew so little. His efforts to dispel his ignorance of the Cause led to him becoming a Bahá'í.
The transformation of his Iife and values was so complete as to amaze many of his associates. One of his earliest resolves after accepting the Faith was to marry only a Bahá'í girl so that his children would be brought up firmly in the Faith. Ironically, several years later when he married, he recognized his father-in-law to be Siyyid 'Abdul-Ḥusayn-Ardistáni, the same Bahá'í teacher whose visit to Kirmánsháh in 1911 had set off the chain of events that led to his acceptance of the Bahá'í Teachings. In 1934 Músá Banání made his first pilgrimage to the Holy Land. Twenty-six days were spent in the presence of the beloved Guardian, an experience which created an intense flame of love and loyalty that melted and fused the essence of Músá Banání's being. His devotion to Shoghi Effendi remained the hallmark of his character to the end of his life. The Guardian, in turn, perceived the simplicity, directness, unbounded energy, and spiritual potential of Músá Banání and nurtured these qualities by showering a joyful love upon him. Even at that stage the Guardian told a group of pilgrims that Músá Banání "is one equal to a thousand". Some could not understand why the Guardian spoke so glowingly of an unlettered man.
In Persia he was able to channel his active and decisive temperament in service to the Faith. His work as a member of the national committee charged with the responsibility of identifying and acquiring historic sites associated with the Cause culminated in the purchase and subsequent restoration of the House where Bahá'u'lláh was born in Ṭihrán.
In 1950, soon after Shoghi Effendi raised the call for the opening of Africa to the Faith, Músá Banání made the most decisive move of his life. Although his enterprise and activity had made him a man of considerable means, he put an abrupt end to all his business concerns and left Persia. Together with his wife, Samíḥíh, his daughter, Violette, his son-in-law 'Ali Nakhjavání, and his grand-daughter Bahíyyih, he pioneered to Africa in 1951 and settled in Kampala, Uganda, a county hitherto unopened to the Bahá'í Faith.
If the nature of Músá Banání's services in Africa could be summed up it would be best expressed as "instant, exact and complete obedience" to the wishes of Shoghi Effendi and caused him to speak so lovingly of Músá Banání to those around him. In 1952, when he made his second pilgrimage, the teaching effort in Africa was already bearing fruit. It was an exciting period in the development of the Cause and a joyous reunion occurred. Daily the beloved Guardian would give him specific and detailed instructions for the successive stages of expansion and consolidation of the Faith in Africa. But not until the Banánís took leave of the Guardian on the final day of their pilgrimage did he tell them that he had already announced to the Bahá'í world the appointment of Músá Banání as a Hand of the Cause of God. True to his unassuming nature and with characteristic directness, Músá Banání protested: "I am not worthy. I cannot read or write. My tongue is not eloquent. Give this mantle to 'Ali Nakhjavání who is doing the lion's share of teaching in Africa." But the Guardian replied: "It is your arising that has conquered the continent. 'Ali's turn will come."
The years of intense activity that followed witnessed the true spiritual conquest of Africa, the building of the Mother Temple of that continent and the establishment of an expanding number of Regional and National Spiritual Assemblies. At all times Músá Banání was able to communicate to others his sense of urgency and totality of effort. In the spring of 1954 the Guardian instructed him by cable to purchase a site for the Mother Temple of Africa. Although he has just undergone eye surgery of a serious nature requiring intensive post-operative care and rest, Músá Banání interrupted his period of recuperation, launched and personally led a search, and within the week was able to cable Shoghi Effendi that the site had been selected and purchased, news which the Guardian was able to share with the Bahá'í world in his message of May 4, 1954.
The passing of the Guardian in 1957 was an irremediable personal blow for him, but it made him doubly resolute in fulfilling Shoghi Effendi's plans. Bahá'ís who came into contact with him were deeply impressed with his simple and elemental spiritual strength. During the last ten years of his life when he was increasingly cut down by physical suffering – sustaining paralysis of one side of his body, amputation of a leg, and the loss of site in one eye – the radiant quality of his faith overwhelmed and conquered all. When he could no longer move about, his daily prayers were offered for those Bahá'í communities which were experiencing distress.
He was, at the end of his earthly life, a truly inspiring example of the triumph of the spirit over every earthly limitation. He had made a fortune and raised a Bahá'í family earlier; now he had spent most of his material substance in the crowning nineteen years of his life opening a continent to the Faith and adding thousands to the Bahá'í family of the world. He was able to look back upon his life with a profound sense of humility and gratitude. He felt that God had been extremely generous to him. Bahá'u'lláh had given him everything in this life that he had ever wished for, and he was given the opportunity to give it back to Him. His death in Kampala on September 4, 1971, and his interment in his favourite spot in the soil of Africa, within the shadow of the Mother Temple of that continent, was the generous fulfillment of his last wish."  – The Bahá'í World, Volume XV, pages 421 – 423